REAL, BOLD and SIMPLE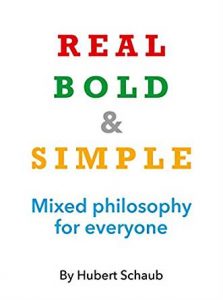 REAL, BOLD and SIMPLE addresses the human condition on an individual, social, political and spiritual level.
The author lets his mind flow, in no particular order, depicting the irregularity of life, whilst maintaining the concept of everyday philosophy.
Under the motto ,"you don't have to be a philosopher to like philosophy," he opens the door to philosophy for everyone, exploring everyday issues we can all easily relate to.
As the title suggests, the author's philosophy is delivered vividly and "to the point". He writes what many are thinking, but few dare to say.  The truth is offensive only to those who don't seek it.
In the quest for truth, REAL BOLD and SIMPLE harbours some profound messages and challenges, politically incorrect at times. It portrays the world as realistically as it can get within the author's scope of knowledge and experience, spiced with a touch of wit and humour, whilst in parallel, encourages the readers to question the world around them and form their own opinions.
JOURNEY OF LIFE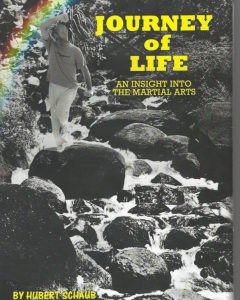 "Journey of Life" takes the reader on a journey of revelation, explaining the meaning of the moral values of the martial arts, its philosophy and how the martial artist's mind works. It explores the parallels of martial arts and life philosophies and demonstrates how the cultivation of martial arts' values and virtues can substantially improve one's quality of life.
With over twenty years of martial arts education, as well as fifty plus years of life experience, the author shares his knowledge and reveals how the martial artist's mindset can help us to competently deal with stress, anxiety and all the challenges we face.
An eye opener, challenging at times, exposing myths and misconceptions and portrayed clearly and realistically, it helps the reader discover the truth about martial arts.
It allows one to gain a potentially mind changing insight, with focus on the spiritual qualities of the martial arts.
A simple and compact book, not only to be read, but also to be experienced, "Journey of Life" is beneficial to both the martial artist as well as the lay person.
Die Reise des Lebens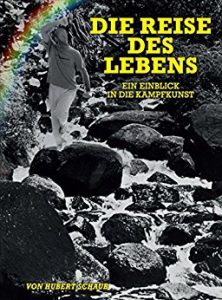 "Die Reise des Lebens" nimmt den Leser mit auf eine Entdeckungsreise, bei der die
Philosophie der Kampfkunst erklärt wird, welche Bedeutung die in ihr kultivierten moralischen Werte haben und wie der Geist eines Kampfkünstlers arbeitet. Das Buch
untersucht die Parallelen zwischen Lebensphilosophien und Kampfkunst und macht
deutlich, wie die Kultivierung von Werten und Tugenden der Kampfkunst erheblich zu
einer besseren Lebensqualität beitragen kann.
Der Autor, der mehr als zwanzig Jahre Ausbildung in der Kampfkunst und über fünfzig
Jahre an Lebenserfahrung vorweisen kann, gibt all sein Wissen weiter und zeigt, wie
die geistige Haltung eines Kampfkünstlers uns helfen kann, mit Stress, Ängsten und
allen Herausforderungen des Lebens souverän umzugehen.
Das Buch öffnet – manchmal auf recht herausfordernde Weise – die Augen der Leser,
indem Mythen und falsche Vorstellungen aufgedeckt und realistisch betrachtet werden,
damit der Leser die Wahrheit über die Kampfkunst entdecken kann.
Der Fokus auf die spirituellen Qualitäten der Kampfkunst kann dem Leser zu Erkenntnissen verhelfen, die seine bisherige Denkweise verändern können.
"Die Reise des Lebens" ist ein einfaches, kompaktes Buch, das nicht nur gelesen, sondern auch erlebt werden sollte und sowohl für den Kampfkünstler als auch für den
Laien ein Gewinn ist